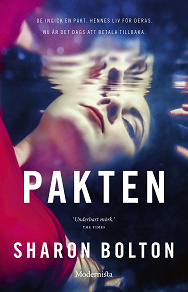 Isbn:
978-91-8023-448-1
Publisher:
Modernista
Category:
Crime & Mystery
Accessible since:
May 2022
---
Pakten
»Ingen konstruerar så obehagliga intriger som Sharon Bolton.« Lotta Olsson tipsar i DN
»En suverän thriller, där tempot hela tiden stegras fram till den gastkramande finalen.« Ingalill Mosander, Aftonbladet 
»Suveränt fängslande.« Daily Mirror
Det är en idyllisk sommar och sex unga, begåvade vänner ser fram emot en ljus framtid. Men så slår en eskalerande lek, bestående av våghalsiga utmaningar, fruktansvärt fel. En kvinna och två barn dör.
Artonåriga Megan tar på sig skulden för dödsfallen och lämnar de övriga vännerna att gå vidare med sina liv. I gengäld kommer de alla överens om en »tjänst« de ska göra henne när hon väl släpps ut ur fängelset.
Tjugo år senare är Megan försatt på fri fot - och spelet kan fortsätta.
I svensk översättning av Åsa Brolin.
SHARON BOLTON hör till Storbritanniens mest hyllade deckar­författare. Hon har bland annat vunnit Mary Higgins Clark Award och emottagit The Dagger in the Library från Crime Writers Association för sitt samlade författarskap.
»En gränslös lek slutar i tragedi. Jag blir uppslukad, särskilt av de fina skildringarna av de unga studenterna.« Malin Persson Giolito, Vi Läser 
»En perfekt konstruerad deckare.« Jo Spain
»Ett seriemördardrama med klassperspektiv där spänningen bibehålls till sista sidan.« Betyg: 4 av 5 - Pia Lindestrand, BTJ
---