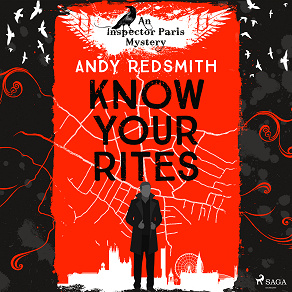 Isbn:
978-87-2686-942-2
Publisher:
Saga Egmont
Category:
Novels
Fantasy & Sci-Fi
Accessible since:
June 2021
Narrator:
John Last
Length: 10 hours 3 minutes
---
Know Your Rites
Inspector Nick Paris is back in this magical crime mystery perfect for fans of Douglas Adams, Ben Aaronovitch and Holly Black.

Inspector Nick Paris, now also known as 'the one who stopped the demons', has become an unlikely celebrity in the magical world. He is desperate to return to tackling more ordinary crimes on his home turf of Manchester. However, the fates aren't in his favour when he is called upon again by his more unusual police colleagues to solve a gruesome killing. The only suspect is a dwarf trying to make it in the rap business. But are there more mysterious matters afoot? Paris is thrust back into the world of magic and murder – but who will face the music?


Andy Redsmith was born in Liverpool but moved the enormous distance to Salford and has lived in Manchester ever since. He says the people there are great, but we don't talk about football. Over the years working in IT he worked with some very clever people and some complete weirdos, none of whom bear any resemblance to the characters in his books. Honest. He has a wonderful wife, a great son, and a loft full of old Marvel comics. One day he'll get round to selling them. That's the comics, not the family.

Listen to sample
---