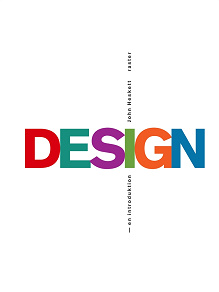 Design - en introduktion
»Det här är den bästa bok som jag har läst om designprocessen och bygger på övertygelsen att design har en djup betydelse för oss alla på otaliga sätt.«   
— Terence Conran

I den här boken ger John Heskett en bred introduktion till området design med konkreta exempel  även från områden som traditionellt inte förknippas med designbegreppet. Heskett börjar i det lilla, det enskilda föremålet, och går till det stora, utformningen av system. Han undersöker allt, från hur lagstiftning påverkar designen, över hur företagens designavdelningar är organiserade, till den grafiska formgivningens uttryckskraft. Han beskriver hur design används för att skapa upplevelser och uttrycka identiteter. Heskett diskuterar inte bara designens traditionella länder, Europa, USA och Japan — genom sin erfarenhet av att arbeta med design i många olika länder förflyttar han oss mellan exempel från hela världen.
 
John Heskett var professor och rektor vid The School of Design vid Hongkong Polytechnic University samt professor vid Institute of Design vid Illinois Institute of Technology i Chicago. Han var rådgivare i designfrågor till regeringar och företag runt om i världen och en internationellt känd designskribent. Han har tidigare bl.a. givit ut Industrial Design (Thames and Hudson, 1980) och Philips: A Study in Corporate Design (Rizzoli, 1989). Den här boken publicerades först på engelska med titeln Toothpicks & Logos. Design in Everyday Life och sedan som Design. A Very short Introduction (Oxford University Press, 2005).?
---