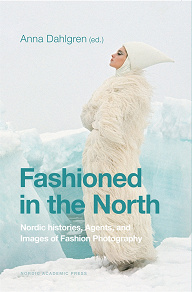 Fashioned in the North: Nordic Histories, Agents and Images of Fashion Photography
Fashioned in the North, om Nordisk modefotografi, innehåller många hittills okända exempel på bilder, fotografer, och publikationer inom modeforskningen. I antologin diskuteras också orsakerna till denna underexponering. Därmed utmanar texterna inte bara modeforskningen genom nya exempel utan också genom att närma sig modefotografi på nya sätt, såväl metodologiskt som teoretiskt. Boken innehåller åtta kapitel skrivna av forskare från alla de nordiska länderna. Den lyfter fram okända aktörer och bilder men utmanar också tidigare forskning om modefotografi genom att ifrågasätta var, av vem och på vilket sätt modefotografins historia har skrivits. 
Här utmanas till exempel föreställningen om den ljusa, blonda skandinaviska stilen, tankar om centrum och periferi och nationella karaktärsdrag i modefotografins värld. Arkivens betydelse och modefotografins materiella förutsättningar är andra spår som behandlas. Sammantaget visar Fashioned in the North att modefotografiska studier kan berätta så mycket mer än att fokusera på några få stjärnfotografer och ikoniska bilder. Ett sådant bredare angreppsätt visar att modefotografi inte enbart handlar om estetik utan lika mycket är ett uttryck för kulturella, sociala, ekonomiska och ideologiska skeenden i samhället i stort. 
---