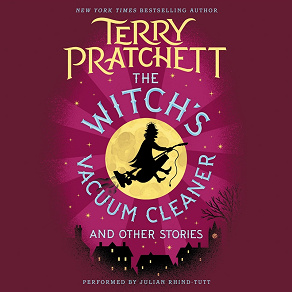 Isbn:
978-00-6266-927-8
Publisher:
HarperCollins
Category:
Fantasy & Sci-Fi
Accessible since:
February 2020
Narrator:
Julian Rhind-Tutt
Length: 3 hours 53 minutes
---
The Witch's Vacuum Cleaner and Other Stories
Do you believe in magic? Can you imagine a war between wizards? An exciting journey in an airship or down in a submarine? Would you like to meet the fastest truncheon in the Wild West?
The Witch's Vacuum Cleaneris the second fabulously funny short-story collection from the late acclaimed storyteller Terry Pratchett. A follow-up toDragons at Crumbling Castle, this second batch of storytelling gems features stories written when Sir Terry was just seventeen years old and working as a junior reporter. In these pages, new Pratchett fans will find wonder, mayhem, sorcery, and delight—and loyal readers will recognize the seeds of ideas that went on to influence his most beloved tales later in life.
As Neil Gaiman says, "a Terry Pratchett book is a small miracle"-andThe Witch's Vacuum Cleanerproves to be another miracle taking its place alongside Pratchett's astounding and cherished body of work.
A HarperAudio production.
Listen to sample
---