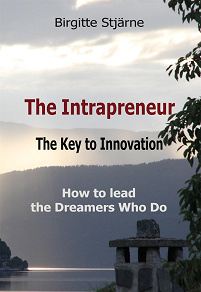 Isbn:
978-91-9844-626-5
Publisher:
Kraftsamlarna Förlag
Category:
Economics & Business
Accessible since:
November 2019
---
The Intrapreneur - The Key to Innovation
Get to know the secret behind intrapreneurship - The Intrapreneur
Why are some established businesses more innovative and successful than their competitors? Researchers say that it is down to how they use their most creative employees – their intrapreneurs, the co-workers who drive development and change.
Intrapreneurs are often aware that they differ from their colleagues, but they may not themselves realise quite how special they are. They have particular qualities and a strong drive that make them unique, and circumstances have to be right for them to succeed. But when everything comes together, they can generate innovation that can be startlingly successful.
But what does an intrapreneur need to succeed?
This book sets out to be a practical guide. From a holistic approach and focusing at the Intrapreneur´s perspective, it describes the experiences of actual intrapreneurs alongside analysis and advice from the Swedish author and intrapreneur Birgitte Stjärne. It is underpinned by current research in topics such as intrapreneurship, creativity, motivation, the work climate and leadership – a stimulating combination of theory and practice that focus on the essence of intrapreneurship, all aiming to enhance an organisation's ability to innovate successfully.
Using research and interviews, the author introduces the reader to a world where nothing is impossible. The focus is on creating structures and a culture that favour innovation and increasing knowledge of ways to identify and support intrapreneurs in the workplace.
---