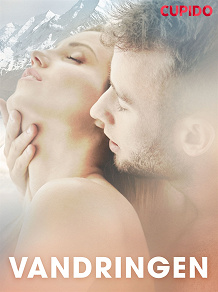 Isbn:
978-87-2630-933-1
Publisher:
Saga Egmont
Category:
Short stories
Romance
Accessible since:
November 2019
---
Vandringen
Det finns ingenting som slår den friska luften på fjället, vågor som slår mot stranden, vinden som smeker bröstet, vattnet som rör vid könet...

This is an erotic collection of short stories from Cupido. The collection contain following short stories:    

""Hon drömde sig bort på berghällen och blev tagen på bar gärning. Han lade sin badmadrass nära henne."" - En härlig dag i solen av Randi 41

"Det luktade mossa, sten och fuktig jord, som höstkvällarna i fjällen gör. Det fanns kvinnostövlar i den yttre hallen."" - Vandringen av Aniara

""De var nakenbadare och sprang sig torra längs strandkanten. 'Den första som vänder om är en fegis', skrattade hon plötsligt."" - Naken på stranden av Phillip

""Hon kände till en öde strand med plats för två. Han packade lite extra utrustning med sig i väskan."" - En dag på stranden av Västlands-flicka

CUPIDO, tidskriften för kåthet, glädje, intimitet och njutning, har sedan 1984 gett ut erotiska noveller baserade på sina läsares vardagsfantasier och sexuella upplevelser.
---