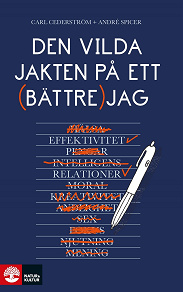 Isbn:
978-91-2715-413-1
Publisher:
Natur & Kultur
Category:
Society & Culture
Accessible since:
December 2017
---
Den vilda jakten på ett bättre jag E-bok
Vi strävar alla efter att bli bättre människor. Snyggare, smartare, mer produktiva, bättre älskare och mer hälsosamma. Vi går på kurser, läser böcker och tittar på Youtubeklipp. Egentligen finns det ingen del av livet som inte kan optimeras.
Forskarna Carl Cederström och André Spicer försöker under ett års tid att systematiskt förbättra olika delar av sin tillvaro. I januari ökar de sin produktivitet, i juni maximerar de sin sexuella njutning och i september ska de bli miljonärer. Experimentet förvandlas snart till ett sätt att leva, där de investerar stora mängder tid och pengar i att bli den optimala versionen av sig själva.

Den vilda jakten på ett bättre jag är en rolig och självutlämnande skildring av självhjälpsindustrin och vad den gör med oss. I slutet av året tvingas författarna ställa frågan: Vad var meningen med allt?

Carl Cederström är docent i företagsekonomi vid Stockholms universitet och författare eller redaktör till fem böcker. Han har skrivit för The New York Times, The Guardian, The Atlantic och Svenska Dagbladet.

André Spicer är professor på Cass Business School, London, och författare och redaktör till sju böcker. Han har skrivit för The Guardian, Financial Times, The Times och CNN. Spicer är bosatt i London.
Read sample
(Download)
---