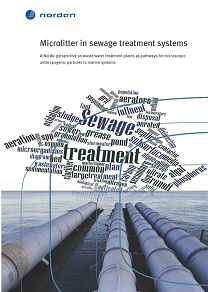 Isbn:
978-92-8934-492-0
Publisher:
Nordiska ministerrådet
Category:
Society & Culture
Accessible since:
May 2016
---
Microlitter in sewage treatment systems
The report presents results from a study on the role municipal sewage treatment plants (STPs) have as entrance routes for microplastics and other microlitter particles to the marine environment. Microlitter concentrations were analysed in waste water before and after treatment in the STPs, and in the recipient waters where the treated waste water is discharged. Municipal waste water was found to contain a substantial amount of microlitter, but in STPs equipped with chemical and biological treatment most of the litter particles were retained in the sewage sludge. This reduces the impact on the recipient water, but if the sludge is used as fertilizer on farm land the microlitter will still reach the environment. Efforts to reduce the microlitter concentrations should therefore preferably be done in households and other locations where the waste water is originally being formed.
---